JURE PUKL – Saxophonist & composer

"Pukl combines the skill, soul and appetite for adventure that has fuelled jazz evolution from the beginning. He's a rising star of a creative new generation that is energetically driving the music on into its second century." 
John Fordham, The Guardian

Jure Pukl was awarded the highest national award for contribution to the Arts in Slovenia (Prešeren Fund Award 2015) and is one of the most prolific and creative saxophonists of the younger Slovenian jazz generation. 
Pukl then won a scholarship to the Berklee College of Music, where he pursued his studies with masters Joe Lovano and George Garzone. 
He completed his Masters degree in music at the Graz Academy of Music. 
Throughout his studies he performed and recorded extensively, leading his own projects as well as working with a vast array of world class musicians. 
He has collaborated with Dave Liebman, Branford Marsalis, Esperanza Spalding, George Lewis, Maceo Parker, Vijay Iyer, Jeff "Tain" Watts, Gregory Hutchinson, Damion Reid, Darius Jones, Doug Hammond, Gerald Cleaver, Adam Rogers, Melissa Aldana, Rodney Green, Charles Altura, Joe Sanders, Aaron Goldberg, Marcus Gilmore and Johnathan Blake.
He has also worked with various orchestras such as Big Band RTV Slovenia, The European Jazz Orchestra, European Movement Jazz Orchestra and the Vienna Saxophone Quartet. 
He has toured extensively throughout USA, Asia and Europe, performing in venues such as the Blue Note, Smalls Jazz Club, The Jazz Gallery, Ronnie Scott's, Porgy & Bess, Stadtgarten and festivals including Winter Jazz Festival, Moers Jazz Festival, Vienna Jazz Festival, Pori Jazz Festival, Berlin Jazz Festival and the Cairo Jazz Festival. 
His music has won him numerous awards and in his auctorial projects such as Doubtless, Broken Circles, Abstract Society and MEAT or Sound Pictures, Pukl has dedicated himself to modern interpretations of jazz and improvised music. 
What he creates is a unique type of modern jazz, avantgarde, free jazz and impressionistic contemporary music performed with a great deal of knowledge and love, giving prominence to the interplay between band members. 
He has released 8 Albums under his own name and received rave reviews in Downbeat Magazine, The New York Times, Jazzwise, Jazz Podium and All About Jazz. 
He is also featured on more than 50 other projects as a sideman. 

Jure Pukl albums:
https://open.spotify.com/artist/09gtLpcX1ocgQcgFzdOYWc

Jure Pukl website:
https://jure-pukl.com/

For booking enquiries please contact:
Brandon Allen Artist Bookings
+447976379891
bdajazz77@gmail.com
EPK:
https://www.dropbox.com/scl/fo/pvspvl8yx8pb0e98qkeum/h?dl=0&rlkey=3wsi3nek8t0xxdz2eymskwe28

Available projects for 2023/24:
Jure Pukl - Trio Joy
feat. Joe Sanders & Greg Hutchinson (SI/US)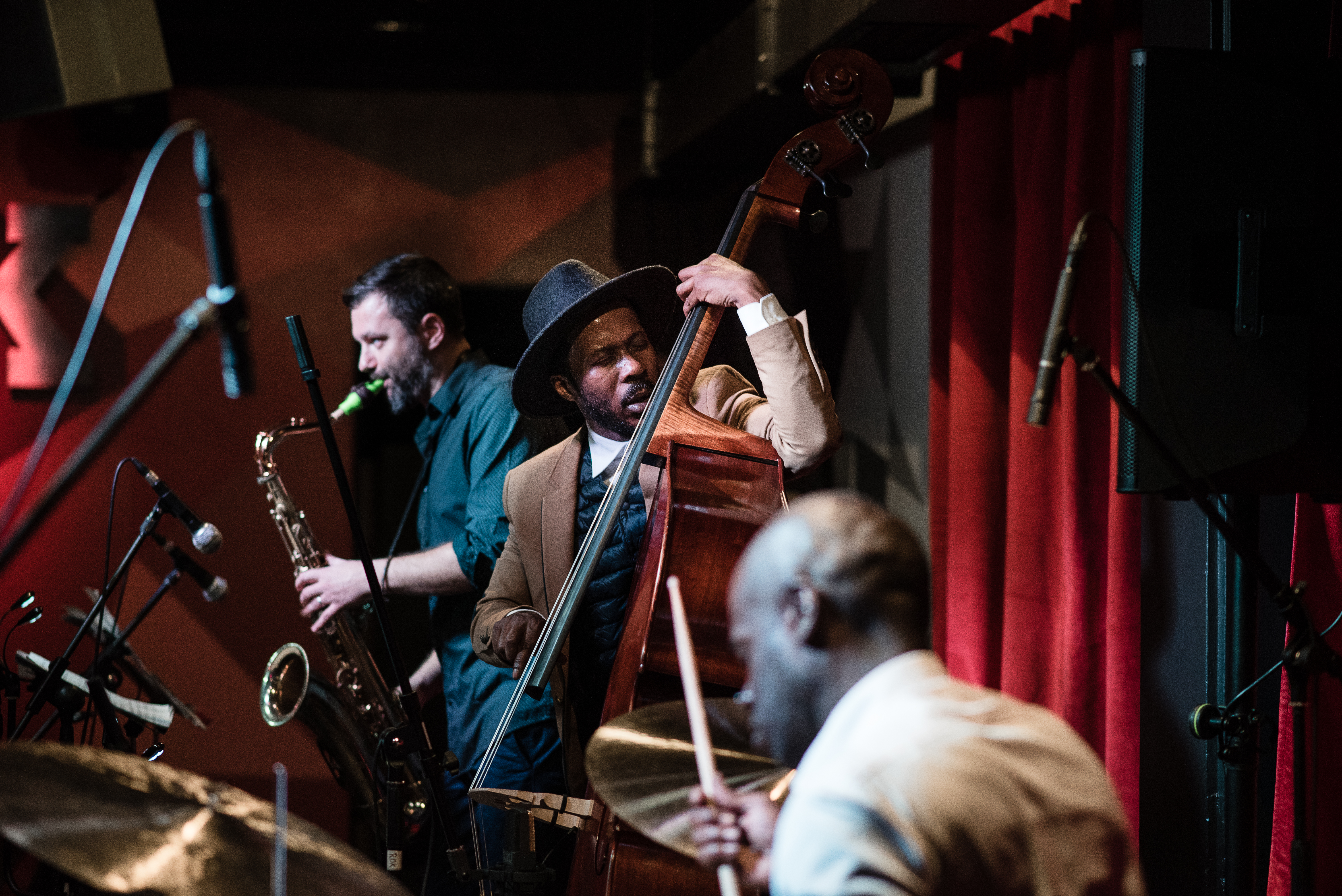 Jure Pukl – tenor & soprano saxophones
Joe Sanders - bass
Greg Hutchinson - drums
Spontaneity is key. "It's very improvised – and every number sounds different at each gig," says Pukl. 
"Joe can change things so much, including time signatures, so we have to react in the moment. But it's great to switch the vibe – we go for it, and the audience feel it. Once we've checked out the pieces, we then purposely let them go; and I've found so much liberation in this – we all become transformers for where the music wants to take us." 
It's clearly an artistic marriage made in heaven.
Pukl further states, "I have realised how important it is to play with people you love and respect – they love you back, and it takes the music to a higher level. It's magic being on the road with these guys. What we create is something that people – not just jazz audiences – connect with. This band brings together everything that we are, and it works. It's kinda amazing!"

'Live' at Porgy and Bess (Vienna)
https://youtu.be/omlqCC3_A3c?si=x2JyfwSiLS67FDHo


Jure Pukl - ANOROK (SI/US)


'Lost'
https://youtu.be/ZMyGMxfpxvo?si=jK6NMYa1RSEeSWBb
'Balkanoid'
https://youtu.be/ccesUefPyxU?si=9Ycjluyr1734KJEW

Jure Pukl – tenor sax/electronics
Peter Evans - trumpet
Joe Sanders - bass
Nasheet Waits - drums

ANoRoK is a project of saxophonist Jure Pukl, for which he takes inspiration from the present. Chaos and unrest in politics and society are reflected in the original music. In its core it is based on jazz, improvisation and contemporary classical music. Electronic sounds mirror the sonic realm we are currently living in. ANoRoK is a tribute to Earth and us, its inhabitants.
The ensemble consists of some of the most radically improvising musicians of the international avant-garde: trumpeter Peter Evans, bassist Joe Sanders, and drummer Nasheet Waits. They know each other from the improv scene of New York, where Jure Pukl is currently based. He has traveled all over the world, and became known as one of the most productive and excellent saxophone players from Slovenia.

'Live' at Ljubljana Jazz Festival:
https://youtu.be/KBWTpCdigfU

Anorok promo video:
https://youtu.be/cWbbdp2I2pc?si=TxeCYpCiUOo0E7B-

NEMESIS 
feat. Pukl/Lanzoni/Sanders/Scott (SI/Italy/US)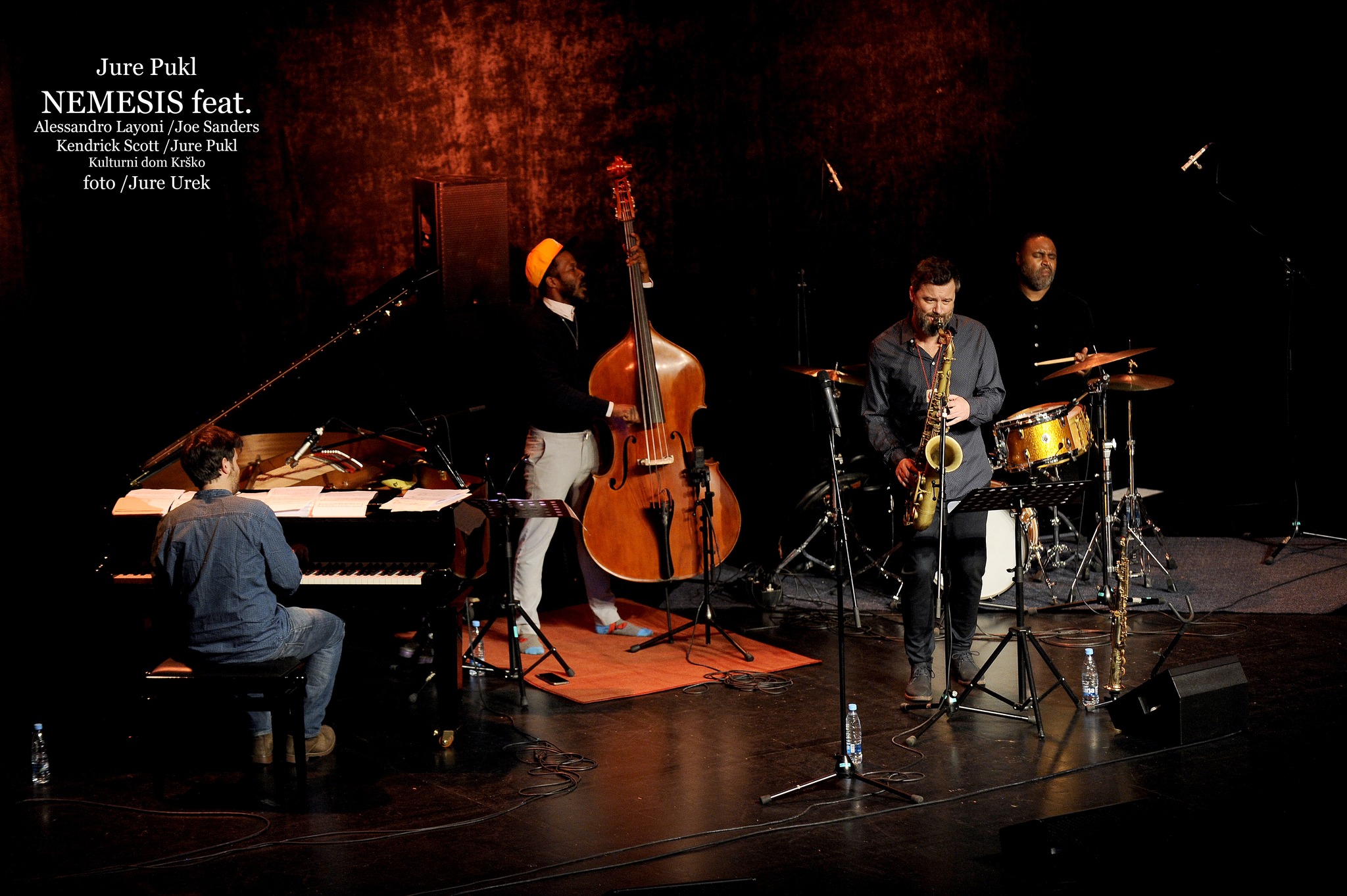 Jure Pukl – tenor and soprano saxophones
Alessandro Lanzoni - piano
Joe Sanders - bass
Kendrick Scott - drums

Jure and Alessandro played together for the first time in 2015 on a European tour with Joe 
Sanders and Francesco Ciniglo.
Their musical expression immediately caught on and began to expand beyond established 
practices. When knowledge and energy come together, something intangible in the 
language of music is created. Strong improvisation supported by a rich musical history, 
looking into the future of music, gives birth to something new, innovation. 
Alessandro is known for his powerful and rich harmonies, while Jure adds primal energy and 
trips into the unknown.
With the help of good friends, musicians of the highest calibre, such as Joe Sanders on bass 
and Kendrick Scott on drums, their band is one of the hottest quartets on the current 
European jazz improvisation scene. 

Video to be added soon!

JURE PUKL 'BROKEN CIRCLES' (SI)
Jure Pukl – tenor saxophone
Marko Churnchetz - piano
Jani Moder - guitar
Robrt Jukic - bass
Kristijan Krajncan - drums

Video:
https://www.youtube.com/watch?v=8a4aAfYUQXM

PRESS QUOTES:

"Jure Pukl is a brilliant saxophonist who is forging an honest and original path in contemporary improvised music. His playing and compositions evoke a humanistic quality that is, full of expression and spirit. If a spirited, well defined, singular voice is what you're looking for, Jure is the answer." 
– Greg Osby 
"An inspired recording of contemporary jazz." 
- ★★★★ Jazzwise Magazine 
"Sophisticated but enjoyable music. The quintet enjoys great chemistry, especially in its front line" 
- DownBeat Magazine 
"Widespread progressions with meticulously wrought melodic themes wrapped around are prevalent on an album which doesn't hesitate to vary speed and structure throughout... Jure Pukl once again proves to be a smart composer who is able to channel emotional depth through instrumental eloquence." 
- ★★★★ All About Jazz 
"This reflects Pukl's self-awareness, maturity and self-confidence." 
- Rhein Main magazine 
"A highly individual and accessible sound that's more than the sum of its impressive parts."
- Jazz Views 
" Certainly music for our times" 
- Jazz Journal 
"Impressive directions and musical musings." 
- Jazz Weekly 
"One of the freest, brightest and most charismatic saxophonists of the time." 
- Saarbrücker Zeitung